Calm'n'Soothe
Therapeutic Dead Sea Salts
For psoriasis sufferers – our experience with the Dead Sea and how its salts can help.
Calm 'n' Sooth was started 10 years ago by Paul Clark. Paul has suffered from Psoriasis all his adult life and wanted to share his experience. He began importing Dead Sea Salt to be able to supply fellow sufferers at a reasonable price as the cost of Dead Sea Salt in the UK was expensive at that time, which deterred many sufferers from getting the benefits that Dead Sea Salt brings.
This is Paul's story…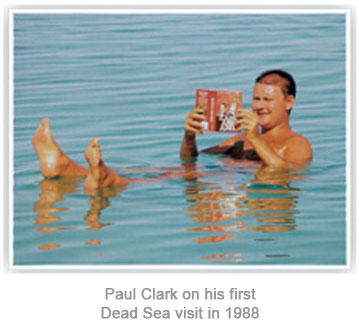 "I gave up on traditional treatments and made my first trip to the Dead Sea in 1988. For me this was a life changing experience, for the first time in years my skin was clear and I now try to go once a year. In 20 years I have met some truly remarkable people from all round the world and picked up a wealth of info and handy tips in the management of Psoriasis.
I actually found out about the benefits of the Dead Sea by a chance meeting with a stranger some 20 years ago. He noticed the Psoriasis on my arm and mentioned that he too was a sufferer, except I could see nothing wrong with his skin. He went on to explain that once a year he visits the Dead Sea and in between trips, uses Dead Sea Salt in his bath at home.
I mulled over everything this man had told me and it did not take me long to make the decision to go to the Dead Sea myself. I had nothing to lose. My skin was truly awful at this point and everything the NHS gave me had failed, with the next drug stronger and more harmful than the last. I contacted the Psoriasis organisation and they put me in touch with a specialist agent and within 2 months, I was at the Dead Sea. This was the best decision I could have made, I came home from that very first visit with the Psoriasis 100% in remission and that remission lasted the best part of a year, and having been extensively covered on every part of my body it was some feeling to be clear.
I use the Dead Sea salt between trips as part of my maintenance regime and as each year passed, I became more and more concerned at the unrealistic claims some people selling Dead Salt make regarding its therapeutic effect, along with the high costs being charged.
This is why I formed Calm'n'Soothe, a company dedicated to offering Dead Sea Salt at a realistic price and a company that will not make false claims about the health benefits."
Since its humble beginnings Calm 'n' Soothe has grown from strength to strength. Under the experienced guidance of current Managing Director Vincent Beisty, Calm n Soothe is now one of the UK's leading supplier of Dead Sea Salt and we have expanded our product range, this now includes; Himalayan Pink Salt, Epsom Salt and a full range of holistic soaps, scented candles, bath melts and essential oils, all keeping with the Calm 'n' Soothe ethos " Supplying 100% natural & genuine products that complement our existing range at competitive prices".